The map below gives the approximate boundaries for the eight 1783 tax districts as described by Alcock in his Fauquier Families, Vol. 2. This provides a better understanding of an ancestor's location than previous data which consolidated districts into three "jurisdictions". As can be seen, some of the districts actually spanned a wide area and both parishes of Fauquier.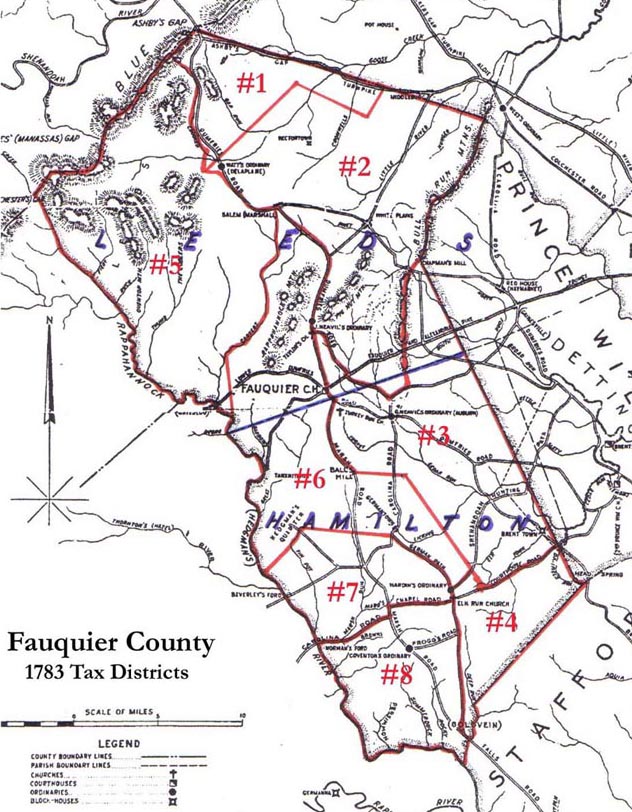 District 1 Hezekiah Turner, commissioner
District 2 William Heale and John Hathaway, joint commissioners
District 3 Thomas Digges, commissioner
District 4 Col. Samuel Blackwell, commissioner
District 5 Benjamin Shakleford, commissioner (Leeds Manor)
District 6 William Pickett, commissioner
District 7 Thomas Bronaugh, commissioner
District 8 Thomas Keith, commissioner

Please note these boundaries are approximations drawn on Mr. Alcock's descriptions. Research will show that several residents on Pickett's list actually resided on Manor lands, thus Shakleford's jurisdiction wasn't fully all inclusive.
Re: Alcock, John P.; Fauquier Families 1759 - 1799, Vol. 2; Iberian Publishing Co. Athens, GA (2001)